Marinas are like a goldmine for criminals and face theft across the board. Everything stored within the walls and waters of a marina are valuable, not just the boats themselves. This leaves everything stored within a marina up for grabs when a break in occurs.
In recent years, the most common and valuable theft from marinas are multifunction displays and GPS displays. The reasoning is a quicker and easier theft with high profitability. Quick and easy to steal multiple in one outing, this has become the most common theft in marinas in recent years.
According to the National Insurance Crime Bureau, since 2017, boat engine and console theft have increased drastically. And more recently, due to the pandemic, there has been a surge of lob losses globally, making marina theft even more enticing as it is seen as a quick way to make "boatloads" of cash.
In 2019, one Texas boat dealer reported that the running total of 41 stolen engines from his marinas had cost him over $700,000. According to IAMI (International Association of Marine Investigators), this has become a multi-million-dollar industry. Theft impacts everyone in the marine industry, from boat owners and marinas to marine insurers and law enforcement.
Why are Outboards and GPS's specifically being stolen? How Big of a problem is it?
High dollar value center consoles and Yamaha outboards are not only easy to steal but have very high resale value. As most, if not all, retain their value after use. Each item alone is in the 4-5 figure range and takes less than half an hour to remove.
These thefts typically occur in storage yards, with vessels hauled and blocked and sometimes even in the water. Boats on trailers are the primary targets, as they are easier to access for a quick in and out and are stored closer to other targets allowing for several thefts in a short time.
Unlike most thieves, Marine thieves target specific brands, models and locations. They know when and where to hit next and who has protection and who doesn't. So, any boat with top-of-the-line products will not go unnoticed and automatically have a target, and they will bypass mid-tier and go straight to the tip of line Yamaha outboards.
What's the damage?
The GPS consoles can cost anywhere from $1,000 to $10,000 to replace. And replacing an outboard lower unit can run you anywhere from $2000, $5000, to even $10,000 or more. A replacement of a singular theft usually costs $30,000 with only outboards and consoles stolen.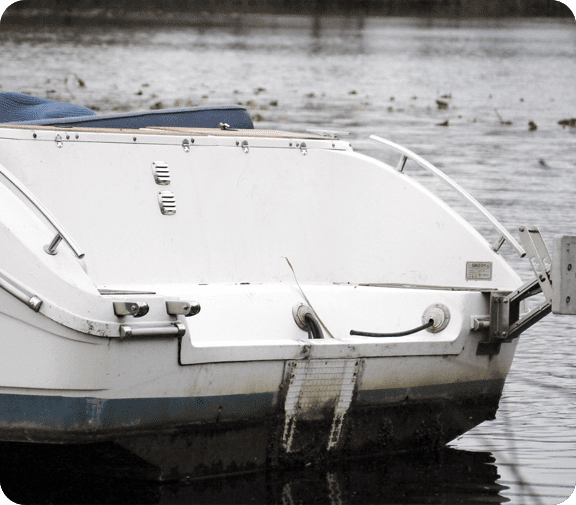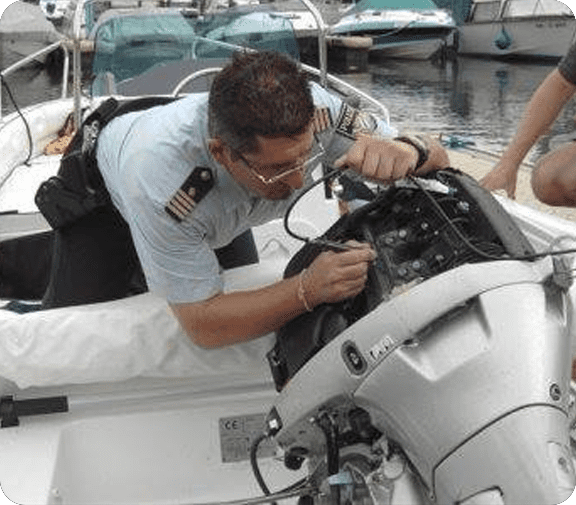 A single burglary can really add up when you're dealing with multiple losses. Dealerships and marinas across the states are losing more than half a million dollars' worth, if not more, of outboards and consoles in less than a year. This can be potentially life-altering for small businesses and marina owners.
On top of all this, retrieving your stolen inventory is nearly impossible to get back. The Coast guard has reported that they have not tracked large numbers of stolen engines overseas because thieves typically replace the engine's stickers. These thieves are professionals and make the solen goods nearly untraceable.
How do you stop Marina Theft?
As marina theft continues to rise across the country, business owners need to look at the proper alternatives to protect property properly. Padlocks and security cameras can only do so much prevention till your inventory has been raided.
Businesses need to recognize these thieves are professionals who will ensure that you will never get it back once they take your property. The only way to stop marina theft is to prevent it before it happens, and that's where Promontory Insight comes in.
Using cutting-edge Artificial Intelligence and analytics, Promontory Insight provides a complete end-to-end video surveillance solution designed to prevent crime before it happens. With real-time notifications sent to our Interactive Surveillance Operations Center (ISOC) centrally located in Dallas to provide nationwide coverage, Promontory Insight monitors and protects your dealership 24/7/365.
Our specially trained ISOC professionals are former military personnel and law enforcement officers who not only respond to video alarms but also perform a detailed threat analysis, ensuring an immediate response to any incident. We identify intruders on your property before a crime is committed, notifying local law enforcement backed up with video verification that guarantees a priority response. We can also issue audible warnings from our ISOC over on-site loudspeakers that deter crooks by making them aware that our security professionals are watching and recording their every move, and that the police have been notified and are on the way.
The result is consistent: prevent the crisis or make an arrest.
Are you ready to proactively protect your marina and your valuable inventory?
Get a Free Quote from EyeQ Today!