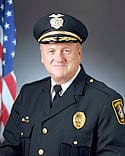 EyeQ Monitoring is honored to be working together every day with law enforcement to keep communities safe. Protecting people and their businesses is at the core of what we do, and this could not be possible without the men and women who risk their lives when they arrive on the scene.
Our partnership with law enforcement made the difference at a Marietta-based motorsports dealership one night, leading to the arrest of a career criminal.
When our monitoring agents discover security threats, they work closely with dispatchers to provide accurate updates on a suspect's location and movement, and other critical details such as if the suspect is armed. Using IncidentCODE, EyeQ can send real-time video, GPS coordinates, and operator comments to first responders and other stakeholders during an incident. Our goal is to arm officers with vital information that helps them safely and quickly make arrests.
In this case, our agent identified the suspect trying to steal a motorcycle. He immediately called to dispatch officers. When they arrived, the suspect was hiding behind vehicles. Unfortunately for him, the officers knew where he would be and had a plan of action. The suspect tried to run, but the police quickly caught him and made the arrest.
The crime solving started with the watchful eyes of EyeQ's technology and monitoring agents, but it is the responding officers who put their lives on the line to stop the suspect in his tracks. We are grateful that these law enforcement professionals quickly and safely made the arrest.
We are also beyond thankful for Marietta Chief of Police Dan Flynn's endorsement of our collaborative efforts. He reached out to the Security Industry Alarm Coalition (SIAC), a non-profit coalition of the major North American alarm industry's trade associations, whose aim is to reduce false dispatches and help foster relationships between law enforcement and local alarm services before crises develop. You can read more about this apprehension on the SIAC website here: https://siacinc.org/apprehension/.
We look forward to our continued partnership with the Marietta Police Department and all other local police whom we support.